Wales' first prescribing Physiotherapists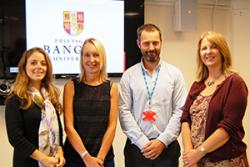 The four successful physiotherapists: Maddy Nicholson, Cathy Wynne, Rob Caine and Ann Harpum.Four physiotherapists working for Betsi Cadwaladr University Health Board have become the first among their profession in Wales to be able to prescribe medication for their patients, as a General Practitioner would do.
Up to the end of 2013, physiotherapists, podiatrists and radiographers could only practice as 'supplementary prescribers' in the UK, meaning that their patients had to be referred to a doctor to receive a prescription, which they could then amend if necessary.
Rob Caine, Maddy Nicholson, Ann Harpum and Cathy Wynne are the first physiotherapists to qualify having successfully completed the course at Bangor University.
Bangor University was the only university in Wales to be validated by the Healthcare Professions Council (HCPC) in November 2013 to run both a conversion course for supplementary prescribers to become independent prescribers and a full independent prescribing course for HCPC registrants. The legislation in Wales has now been amended to allow these physiotherapists to practice as independent prescribers in Wales to mirror the situation in England.
The academic element was taught and assessed by Bangor University's School of Healthcare Sciences, with the clinical competencies assessed by designated medical practitioners (DMP) at a consultant level within the health service. The joint course leaders Mrs Karen Vipond and Mrs Cherie Weightman have been working closely with the Health Care Professions Council, the Nursing and Midwifery Council and the General Pharmaceutical Council and all three regulating bodies have awarded validation for this course to be facilitated at Bangor University. The course has been developed by prescribers for prescribers and trains nurses, pharmacists, podiatrists, radiographers as well as physiotherapist to become independent prescribers.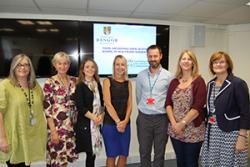 Jan Fereday Smith (1st from left), head of Physiotherapy, Betsi Cadwaladr University Health Board congratulates the first independent prescribing physiotherapists in Wales with course tutors Karen Vipond (left) and Cherie Weightman (right).Jan Fereday Smith, head of Physiotherapy at Betsi Cadwaladr University Health Board commented:
"I am delighted that Cathy, Ann Rob and Maddy are the first four physiotherapists in Wales to qualify as independent prescribers, an accolade to Betsi Cadwaladr University Health Board. This creates fantastic opportunities for physios to be at the forefront in patient care pathways."
Professor Jo Rycroft Malone, Head of the School of Healthcare Sciences said:
"The School of Healthcare Sciences is proud to have supported the first physiotherapists in Wales to become independent prescribers. As healthcare roles and responsibilities are changing to respond to the demands of the current healthcare system, the School has been playing a vital role in educating allied health practitioners, such as Cathy, Ann, Maddy and Rob to advance in their roles for the benefit of patients. On behalf of the Course team at the School of Healthcare Sciences, I'd like to thank the consultants: Dr Yasmeen Ahmed, Dr Dilesh Thaker, Dr Vanessa Poeppinghaus, and Dr William Whitehead for their continual support for this course."
Ann Harpum, an Extended Scope Practitioner at an emergency department said: "I think the independent practitioner prescribing is going to help increase the range of front line drugs that I can give to patients, including analgesia anti-inflammatory medication and antibiotics in wound care."
Rob Caine, a Clinical Specialist in Rheumatology who works in Llandudno, Bangor and across the western area of the Trust said: "the course will enable us to better serve the patients because it will reduce repeat visits, for example they won't have to come back and visit a doctor if we can prescribe the medicine for them, delivering better efficiency and more seamless patient care.
Cathy Wynne, an advanced practitioner in primary care at a GP Practice feels the change will "improve the patient pathway, they'll be able to just see me and won't need to see the GP for a prescription."
Maddy Nicholson works in the Pain team Abergele Hospital feels that the knowledge she's gained will allow her to contribute to the multi-disciplinary case reviews regarding patients.
Publication date: 8 September 2014