To be a Chevener, by Julius Alejandre
Julius Alejandre writes about his experience of gaining a Chevening Scholarship for the MSc Public Health & Health Promotion at the School of Healthcare Sciences, Bangor University:
"My childhood was not smooth sailing compared to other children in our neighbourhood. I was often bullied at school because of my short stature.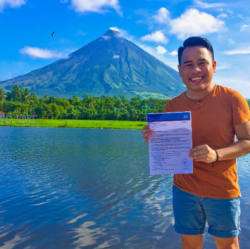 Julius AlejandreAt some point, I thought that my height had something to do with my capabilities and what I can achieve. Until I realised that there are things that I can be great at.
These experiences fuelled my desire to reach my dreams when others think I cannot.
In high school, one of my dreams was to study in the most prestigious university of the country – the University of the Philippines.
I passed the UP College Admission Test and was admitted to a pre-med course. I was the first in our family to be admitted in UP, and it was a great honour for them.
On my first attempt applying for the Chevening Scholarship in 2014 I was not accepted, I was not even shortlisted for the interview. But failing on my first try did not discourage me to take other opportunities.
Instead, I considered it as a motivation to do things like coordinating the development and implementation of the Philippine campaign for salt iodisation and food fortification, being a volunteer for our professional organisation, and helping organise the Philippine youth movement for the Sustainable Development Goals.
I decided on a career goal - of being a public health specialist in the field of health promotion and health policy. Someone who has the expertise on the social and behavioural change strategies for health and nutrition.
I remember it was my birthday and I was backpacking across Indonesia when I received that first #Alphagram from the Chevening Secretariat about the opening of the application season for 2017/18 Chevening Scholarships.
Upon reading the mail, my initial question was, "Am I ready? What if I fail again?" One travellers whom I tagged along with whilst visiting a temple in Yogyakarta prompted me to pick up an answer.
After that trip, I rolled up my sleeves, put my game face on, and started my application. It was 4th November when I finally turned in my application documents.
Excitement and anxiety were always on its peak while waiting for the results of the first cut of applicants.
It was 11th February, when I received an email saying that I got shortlisted for the interview stage of Chevening.
I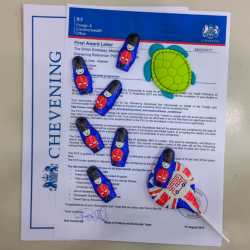 had roughly two months to prepare for it – a time not wasted. From answering possible interview questions, to having mock interviews with friends, to reading interview experiences of past Chevening applicants.
There is really no formula for the Chevening interview, and it is really up to you on how you will use the time to prepare for the "big day".
The Philippines was one of the last countries that announced the final awardees for Chevening – it was 13th June. Mixed of emotions filled me up and even spilled over when I finally received my Chevening award email saying that I was #ChosenForChevening.
I will be taking MSc Public Health and Health Promotion in Bangor University in North Wales. A stunning university town fitted for an outdoorsy person like me.
Their program in public health and health promotion is what I have been looking for – something that crossbreeds health promotion with social and behavioural sciences.
A few days from now, I will be starting a great journey which I conceived some three years."
Publication date: 29 September 2017