Prestigious UK Teaching Awards for Bangor Lecturers
Professor James Intriligator and Peggy Murphy of Bangor University's College of Health & Behavioural Sciences received their National Teaching Fellows for excellence in higher education teaching and support for learning at an award ceremony recently.
Along with 53 other higher education staff from institutions across England, Northern Ireland and Wales they were each awarded £10,000 to recognise individual excellence. The award is intended for National Teaching Fellows' professional development in teaching and learning or aspects of pedagogy.
Awarded by the Higher Education Academy, the National Teaching Fellowship Scheme recognises and rewards excellent learning and teaching and is funded by the Higher Education Funding Council for England (HEFCE), the Higher Education Funding Council for Wales (HEFCW), and the Department for Employment and Learning in Northern Ireland (DELNI).
Delighted with the achievement, Professor Oliver Turnbull, Pro Vice-Chancellor, said: "Bangor University has, yet again, had an impressive result in the National Teaching Fellowship Scheme - with awards to Peggy Murphy and James Intriligator. We have now received more awards than any other Welsh university, which seems further evidence of the excellence of our teaching. It was a delight to attend the awards ceremony, and to see such wonderful lecturers rewarded for their efforts."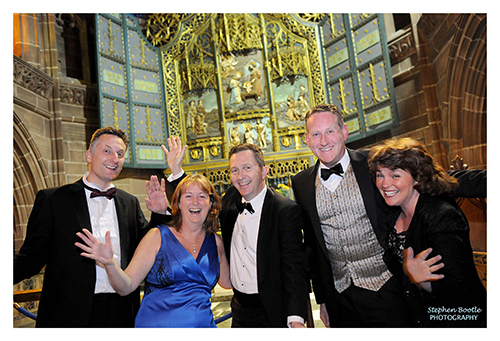 Professor Oliver Turnbull (centre) with Peggy Murphy and her husband (left) and Professor James Intriligator and his wife (right)
James Intriligator is a Professor of Innovation and Consumer Psychology at the School of Psychology. A pioneer in the field of Consumer Psychology James brings innovation to everything he does – and inspires it in others. To describe his impact, students had to invent a new award for James: at the 2012 HEA/NUS student-led teaching awards, they used the 'open' category to declare him "Equality and Liberation Champion." In 2013, he earned another unique honour becoming the first Bangor academic to receive a personal chair based not on research but on innovation and impact in research and teaching.
James seeks to inspire and support every student he encounters. He wants his students to love learning, so in every lecture takes them on an experiential adventure. He employs a variety of teaching methods: videos, advertisements, case studies, guests, games, and social media. James has an innovative and energetic teaching style, and has received exemplary teaching evaluations throughout his career.
James said: "I am very honoured to have received this award. I owe a great deal of thanks to my wonderful students over the past 10 years – their learning, engagement, and enjoyment makes it all worthwhile. And I'm grateful to Bangor University and, in particular, the School of Psychology, which has given me freedom and support – both of which are required for innovative teaching."
Peggy Murphy is a Nurse Lecturer in the School of Healthcare Sciences. She is an experienced nurse who has worked in the UK and Australia as a staff nurse in intensive care and was promoted to nursing sister in acute medicine.
At the heart of her work is the desire to stimulate students' curiosity build up academic confidence. Peggy asserts that quality nursing care is dependent upon a high standard of nurse education. Her teaching and learning philosophy is influenced by her own experience of having dyslexia. Peggy is passionate about inclusive education and believes that improving teaching and learning to accommodate different needs works to the benefit of all students.
Peggy said: "I am absolutely delighted to receive the National Teaching Fellowship. I have only recently begun to work at Bangor University and I have already been amazed by the support I have received from the School of Healthcare Sciences team. The School is a dynamic place to work and right from the start I have been included on a number of teaching and learning initiatives. The partnership approach to improving the student experience has been instrumental in my own personal and professional development. I am excited by the prospect of being part of the Association of National Teaching Fellows and look forward to sharing ideas about good practice in higher education with colleagues."
Peggy plans to split the scholarship fund on two projects, firstly she will visit Whitireia College in New Zealand where she has links to research preceptorship in nursing and share lessons learned. Secondly she plans to work with peer guides in the School of Healthcare Sciences to develop their skills and ability to support current students both in university and practice.
Professor Stephanie Marshall, Chief Executive of the HEA, said: "It is always such an inspirational time as we welcome 55 outstanding teachers in higher education to our growing family of NTFs. This year is no exception.
"While their fields of expertise are many and varied, what they each hold in common is their commitment to learning and teaching, their dedication to their students, and the tenacity in sharing their expertise with others. What also strikes me about our National Teaching Fellows this year is their willingness to learn from others, showing us that learning is an ongoing process from which we can all benefit.
"Our students deserve the best possible learning experience and it is colleagues like those we celebrate today who can make a real difference to their futures. I congratulate all the successful Fellows and wish them every success in their own learning and teaching experiences."
James and Peggy join Dr Charles Buckley of the School of Education and Dr Fay Short of the School of Psychology as members of Bangor University to receive this award.
Related stories:
Bangor University accredited to award HEA Fellowships
Higher Education Academy Principal Fellowship
Bangor University Lecturers Receive Top UK Teaching Award
Bangor University Lecturer to receive UK Teaching Award
Educator who promotes Welsh language in higher education receives prestigious Award
Publication date: 16 October 2014