Podium finish in National Awards for Student Midwives Society
A student Society at Bangor University, which has only been in existence for five months, has won national recognition for excellence.
Student Midwives Samantha Davies, Jonathan Cliffe, Daisy Fenner, Sioned Jones, Hannah Heffernan and Rosie Florence, and the Student Midwife Society Committee Members at Bangor University, were placed in the top three for the Student Midwife of the Year Award, run by the British Journal of Midwifery Practice Awards 2015. The success was announced on 23rd March at the British Journal of Midwifery Awards ceremony in London.
The society committee made the decision to nominate the Society for the Award even though it was only founded in September 2014. The society has quickly grown in strength and has achieved a great deal in a short period of time. During the past 5 months, the Society has hosted its launch event, its first student led conference and held evening workshops for students. Future events include, fundraising activities, further evening workshops and conferences.
Head of School, Professor Jo Rycroft Malone, commented "I am delighted by the success of the Student Midwife Society, and this professional recognition which comes so soon after the launch of the Society. As a School, we are delighted to see our students raising the profile of the caring professions across the UK, demonstrating leadership skills, and developing new ways of supporting each other through their professional education programmes".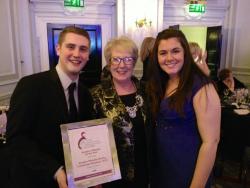 Left to right: Jonathan Cliffe (student midwife), Kath Jones MBE (Royal College of Midwives) and Samantha Davies (student midwife)
As Jonathan Cliffe, Chair of the Society explains:
"Midwifery can be an intense and challenging course to be studying. Our aim in forming the Society was to create an opportunity for students to share thoughts and ideas with each other. This will hopefully be a great benefit to students throughout their time studying at Bangor University. The overall aim of the society is to create relationships between all students to share experiences, providing a forum for mutual support, with a shared philosophy."
The society runs alongside the Midwifery program to enhance the learning and educational experience of all students, enhancing and enriching their education through extra-curricular activities. A key aim of the society is to host study days and events that benefit those studying and practicing Midwifery at Bangor University and local health board hospitals.
Publication date: 1 April 2015