Peer support helping to magnify the wellbeing benefits of outdoor activities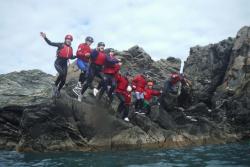 A group coasteering.: Image credit:Trys BurkeWith north Wales being described as the 'Adventure Capital of Europe' and this year being promoted as #yearofoutdoors, we are all being encouraged to celebrate our mountains, coast and countryside and to immerse ourselves in the nation's natural beauty and reap the benefits to our wellbeing.
A new and exciting study from Bangor University is examining whether the wellbeing benefits can be increased for certain individuals when they are supported by people facing similar challenges, or 'peers'.
While leading a group of blind veterans, from Blind Veterans UK, coasteering off the coast of Anglesey, Trys Burke of Snowdonia Watersports saw how members supported one another and were able to encourage each other in way she could not because she was not blind.

"By stepping back at an appropriate time and allowing one of the confident participants to lead the others through a small section, I could see the groups' confidence and enjoyment grow and grow," said Trys.

"The peer leader provided far more inspiration than I ever could, because he fully understood how his fellow veterans felt, and knew what they could and could not do. The group trusted him implicitly and so relaxed and achieve far more than we hoped for."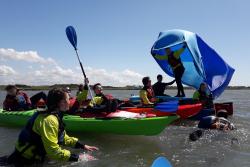 A group experiences sea kayaking and sea kayak sailing.: Image credit: Trys BurkeIn healthcare, peer supporters (also known as peer leaders or peer mentors) often work in a role where they draw upon and share their own experiences to inspire, inform and support others in similar situations, to help them find their own path to recovery or a happier life.

Trys is now undertaking a PhD at Bangor University's School of Health Sciences to develop a model of peer support and trial it in the outdoors.

"It won't be easy" she says. "The outdoors is a very dynamic and often dangerous environment. Knowing when and where is best to allow the peer support worker to take control is critical, but the benefits of them having control, even for a short time, really magnifies the opportunity to build confidence and trust in the group."
This research will also address targets set out by the Welsh Assembly's Well-being of Future Generations (Wales) Act 2015 and will provide activity centres in north Wales with potential new programmes to offer clients.

Chris Thorne owner of Snowdonia Watersports in Llanberis, and the project's company partner said:

"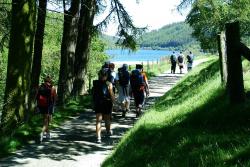 A walking group al Llyn Crafnant, Snowdonia.: Image credit: Simon BurkeMany local community groups, often with complex needs, come to us for outdoor activities on a regular basis. I'm really excited that at last we will be able to offer our clients and their members a programme of development in the outdoors that takes the members on a journey beyond just involvement in the activity alone."
The research is funded under the Knowledge Economy Skills Scholarships (KESS 2) Programme. KESS 2 is part-funded by the Welsh Government's European Social Fund (ESF) Convergence programme for West Wales and the Valleys and it supports collaborative research projects with external partners based in the Convergence area of Wales (West Wales and the Valleys).

If you would like to know more about the project or wish for your company to participate in the design and delivery, please contact Trys Burke t.burke@bangor.ac.uk or Dr Patricia Masterson-Algar p.m.algar@bangor.ac.uk
Publication date: 30 January 2020