Nursing at Bangor University goes from strength to strength but a limited number of places will be available during clearing
Bangor University's School of Healthcare Sciences has performed very well in recent University league tables whilst its Wrexham campus continues to benefit from further investment. The School was also delighted to recently be awarded a considerable uplift in funded student places from the Welsh Government meaning that its excellent courses, based at both Bangor & Wrexham campuses have additional spaces for September 2016 and April 2017 entry.
In the 2017 Complete University Guide, Bangor School of Healthcare Sciences ranked 3rd for Nursing in the UK. The same league table also saw it ranked 1st in the UK for Radiography. This follows-on from the Research Excellence Framework (REF) 2014 results, which recognised the 'outstanding quality' of health research at Bangor University, with 95% of such research being classed as world-leading or internationally excellent. Speaking after the release of REF 2014, Professor Jo Rycroft-Malone, Pro Vice-Chancellor for Research, said: ''This result reflects the expertise and commitment of our staff, and reinforces our ambition to remain a leading force in health research.'' The School's research excellence not only ensures that education provision is grounded in modern, evidenced-based practice in healthcare but has also has improved the quality of patient care within North Wales, across the UK and beyond.
Complimenting these results is the recent investments into the University's Wrexham Archimedes Centre campus, home to Diagnostic Radiography, Adult Nursing, Mental Health Nursing and Children's Nursing for over 20 years. The total investment, exceeds £200K and consists of new, practical radiography teaching equipment, including Phantoms, through the implementation of LED screen and monitors, significant upgrades to the IT network, to improve the WIFI service, and increased teaching room space including a revamped, tiered lecture theatre, with a capacity of 150. These improvements will enhance further the student learning experience.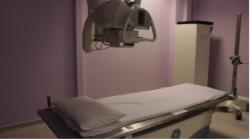 The refurbished Radiography X-Ray room at the Wrexham Campus
Professor Chris Burton, Head of Healthcare Sciences, is delighted with the success within the school, which he says is linked to the continued investment: ''The recent Complete University Guide results are a recognition of the commitment to excellence in teaching and learning shown by all our staff in the School. We have invested considerable resources in advancing the equipment and services available to our students. Our ambition is to continue to work in partnership with our students to ensure that they are well prepared to become future leaders in their chosen healthcare professions".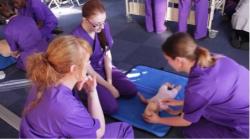 Training at the Wrexham campus
Stephanie, a third year Adult Nursing student who in April was awarded £5000 to advance her Creative Therapy Project, said: '' The teaching and learning facilities at Wrexham, have improved dramatically since I started my studies. The library and the staff in Wrexham are brilliant and cannot help you enough.''
Robson, a third year Adult Nursing student who is due to complete his course in May 2017, described his time at the Wrexham Campus as 'phenomenal': ''The teaching has been remarkable as the staff are excellent, as are the clinical placements that I have undertaken.''
Despite the recent successes making courses increasingly popular, the additional places mean there will still be an opportunity for suitable qualified students to apply during clearing for either the September or April intakes (Adult & Mental Health Routes) with opportunities in Bangor and Wrexham. Following this year's A-Level results, which are to be released on Thursday 18th August, prospective students are encouraged to ring Bangor University's Admissions Helpline on 0800 085 1818. Alternatively, the Clearing page can be accessed through the University website or if you already have a suitable entry qualification and would like to discuss your options the School would be happy to hear from you on 0800 085 1818 or email admissions.health@bangor.ac.uk saying whether you would like to study at Bangor or Wrexham.
By Bangor University student Mark Barrow
Publication date: 15 August 2016