New Professorship embodies partnership working between University and Health Board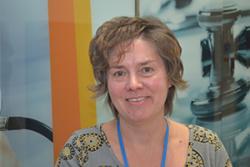 Professor Debbie RobertsDebbie Roberts feels that she is in prime position to have an impact on nurse education, and to influence patient care, having taken up the Foundation of Nursing Studies Chair in Practice Learning, at Bangor University's School of Healthcare Sciences.
Her appointment to her unique role, supported by the Foundation of Nursing Studies (FoNS), straddles both clinical practice and learning. She is able to work with Bangor University's students and with qualified nurses and other health professionals at Betsi Cadwaladr University Health Board. Her focus is to enhance and develop learning environments for the student nurses at Bangor University's School of Healthcare Sciences and to support continuing professional development within the NHS across north Wales.
Professor Debbie Roberts said:
"I'm passionate about teaching and learning in nurse education, and am eagerly promoting and enhancing practice learning in order to improve healthcare in the region. I'm very interested in ensuring that we link research, teaching and innovations and use evidence as a basis for our teaching."
Since being in post, Debbie has developed a strategy for practice learning that focuses on supporting undergraduate nursing through mentorship. She is also exploring how social media can be used at the bedside to enhance student learning and patient care.
Dr Theresa Shaw CEO of the FoNS commented that: "I am delighted that this innovative partnership between FoNS, Bangor University and Betsi Cadwaladr University Health Board has enabled the appointment of Professor Roberts into this exciting post to support and promote practice learning. With our shared values and aspirations to enhance care and health through excellence in the teaching and learning alongside service improvement, practice development, and related research, the post offers a real chance to strengthen practice learning environments across North Wales and offer wider learning throughout health and social care."
Gill Harris, Executive Director of Nursing and Midwifery, BCUHB said: "We are pleased to have the opportunity to work with Professor Roberts.
"It's really important for us and the population we serve to have a talented, home-grown nursing workforce. We welcome the appointment of Professor Roberts, and we are confident that she will make a valuable contribution in helping to develop the next generation of caring, highly skilled nurses and midwives."
Prof Chris Burton, Head of the School of Healthcare Sciences at Bangor University said:
"We're delighted to have Professor Roberts join our team and to host this innovative joint appointment. The objectives of the post fit well with our own. We have a long tradition of partnership-working with NHS and other interest groups at the School of Healthcare Sciences so that we deliver undergraduate, postgraduate and doctoral programmes that have impact for students and services alike and our world-leading research in healthcare improvement, enables us to work with partners to address modern healthcare challenges."
Publication date: 9 May 2017