My Quest for a Dream Career
By Gracious M. Ali (MSc Public Health and Health Promotion -2017/18)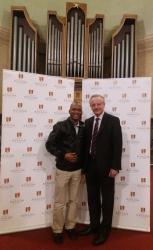 Gracious M.Ali, Vice Chancellor Prof. John Hughes
My dad, an agricultural extension professional who has devoted his life helping local farmers, has been a great role model and inspired my interest in community service. No wonder that, when I graduated from high school, I didn't think twice about following in my dad's footsteps and I applied for admission into a Bachelor's degree in Agriculture Extension at the University of Malawi.
However, two years into those studies, I discovered that, although community service is in my blood, agriculture was not my field. Rather, I had developed an unquenchable interest in public health.
I graduated from the university in 2012, more determined than ever to chase every opportunity that could gain me entry into public health. By good fortune and hard work, in January 2014 I secured a job with an international organization, the Clinton Health Access Initiative (CHAI), supporting the Ministry of Health in Malawi to scale up community management of acute malnutrition in children of under five years.
Five months into the job, I was offered the challenging but yet exciting new task of coordinating the supply chain of malaria, diarrhoea and pneumonia drugs for 504 village clinics for under-fives, an intervention parallel to government programmes, which, after successful implementation was transitioned over to government in March 2015.
Despite the fact that I had landed myself a job in the field I longed for and seemed to be getting on well, I still felt that I could do much greater things if I acquired appropriate technical knowledge and skills in public health.
I therefore decided to do whatever I possibly could to further my studies, with the particular aim of studying public health at Master's level in one of the leading universities in the world. In 2015, I started making applications to my preferred universities in the UK and Ireland.
Unfortunately, these resulted in the familiar "we regret to inform you that your application for admission was unsuccessful" emails, as I was deemed ineligible. "Life goes on!" I assured myself, and planned to bounce back with another round of applications the following year, while in the meantime adding one more year of public health work experience to help make my application stronger.
Upon handing over the supply-chain project to the Ministry of Health at the end March of 2015, I was immediately greeted with another exciting assignment by the same employer to support the Ministry of Health in the national roll out of injectable Artesunate, a newly recommended first-line treatment for severe malaria, replacing injectable quinine, a project which I was to coordinate until the following year.
How time flies! Soon 2016 was upon us, bringing the opportunity to resume Master's applications, targeting the same universities, but this time around more upbeat for "We are pleased to inform you that your application….". How imagination catches reality; I was offered admission into a total of four programmes at three universities, two in the UK and one in Ireland, out of which I settled for the MSc. in Public Health and Health Promotion at Bangor University.
However, there was still one more mountain to climb: I had not yet secured funding for a September 2016 start, which fact obliged me to request a deferment of my admission into 2017/18 academic year.
My only hopes for funding were the Commonwealth Commission and Chevening scholarships, the two prestigious UK government scholarships for overseas students, both of which were scheduled to open for applications for the 2017/18 academic year late in 2016. I applied and was fortunately shortlisted for both schemes, and was eventually awarded the Commonwealth Scholarship.
I enrolled at Bangor University in September 2017 and truth be told, my world has tremendously changed during the few months I have been at Bangor so far. The teaching and research at the university are of high quality, the people are friendly, and the physical environment is quiet and pleasant. I have no regrets on choosing Bangor University!
Prior to my arrival, I was coordinating implementation of a community-based family planning project, which is expected to be transitioned to the Government of Malawi (Ministry of Health) at the end of 2018. My immediate plan upon completion of my studies is to return back to Malawi, and contribute to government programmes that are intended to address health inequalities. Further, I wish to become a successful public health social entrepreneur to enable me address such inequalities at local and national levels in a sustainable manner.
Although I do not yet consider myself successful, I am confident that I am a better version today of what I was yesterday. I am certain that I was meant to be and belong in this field, and that I am on the right path to success.
Achieving the switch from agriculture to public health as demonstrated through successful coordination of scalable projects, and the acquisition of admission into postgraduate studies at this prestigious university coupled with such a prestigious scholarship are great milestones in my career journey. I would like to encourage everyone out there caught in the valley of dreams versus reality; do not quench out the flame inside you, pursue your dreams, and face whatever hiccups life presents you until you can shout "I overcame and I made it!" The sky is the limit.
Publication date: 20 March 2018