Masters' student wins Learning and Work Institute award after graduating twice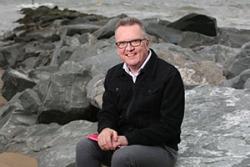 Emyr WilliamsA man from Conwy's been called "remarkable" and "inspirational" after he turned caring for his mother into a full-time job; re-training and graduating for a second time.
At the age of 47, Emyr Williams decided to take voluntary redundancy following a 25 year career in the voluntary sector in Clwyd and Denbighshire. This during a period when he was grieving the loss of his father and looking after his mother who was suffering from mental health problems. However, his commitment to learning has turned his life around and now he's won the "Life or Career Change" award at this year's Inspire! Awards.
After 25 years working for the same organisation in Denbighshire, Emyr decided to seek voluntary redundancy, following a major organisational re-structure. It was during this difficult time, that he decided that he wanted to help others with mental health issues.
Emyr, from rural Conwy, was already volunteering as a 'Robin' volunteer with older people at the Ablett Unit in Glan Clwyd Hospital, when he decided to re-train as a Mental Health Practitioner. He spent three years studying for a Mental Health Nursing degree at Bangor University, simultaneously caring for his mother and working part-time.
He said: "I worked a lot whilst studying, there was no choice. I still needed to pay the bills; I worked during whatever spare time I had".
"Being a Carer is never an easy job. Initially my mother was at home when I started my course, but then she spent long periods in hospital. I would often be doing round trips of 120 miles, several times a week, so I could attend lectures, placements and visit her regularly in hospital. But, this didn't faze me; I was determined to achieve my goal of becoming a Mental Health Nurse.
Just days before his 50th birthday, Emyr achieved a Bachelor of Nursing First Class Honours Degree in Mental Health Nursing. He now works for the Betsi Cadwaladr University Health Board as a Community Psychiatric Nurse, with older people, and is currently studying part time for a Master's degree in Dementia Studies, also at Bangor University. Emyr hopes that by continuing his learning journey, he'll become a better practitioner.
"I love what I do; it's a lot of responsibility but it's so rewarding".
Emyr supported this year's Adult Learners' Week, which was held between 25th June to 1st July. This annual event celebrates lifelong learning; whether work-based, as part of a community education course, at college, university or online.
He said: "I don't think age should be a barrier. It did feel a bit odd going back to university at first, but I've come out with life-long friends and I feel young again. I've been able to re-start my life".
Now celebrating its 25th year, Adult Learners' Week promotes the range of courses available to adult learners; from languages to computing and childcare to finance.
The Inspire! Awards are hosted each year ahead of Adult Learners' Week to celebrate the achievements of outstanding learners in Wales who have shown exceptional passion, commitment and drive for learning; often in the face of difficult circumstances.
Adult Learners' Week is organised by Learning and Work Institute, with the support of the Welsh Government.
Minister for Skills and Science, Julie James, said: "The annual Adult Learners' Week provides everybody across Wales with the opportunity to learn something new, whether you learn from home, in the workplace or in your local community.
"We encourage adults to find out more about improving their skills and enhancing their career options by joining a free learners' event in their area on anything from first aid to digital photography. Adults can also access the Skills Gateway to get careers advice and guidance, whether they want to improve their skills and employability, access training, or get back into work."
Cerys Furlong, Director of Learning and Work Institute Wales, said: "The Inspire! Awards remind us how powerful learning can be. Each winner has shown hard work and determination and they have all come such a long way; we wish each one every success for the future.
Related stories:
Determined carer graduates for the second time with pride
Publication date: 19 July 2016