Learning disability nursing student to volunteer in Romania
Yenita Singer, a first year Learning Disability nursing student, at the School of Healthcare Sciences Bangor University, has successfully gained a place to volunteer at the Oltenia Project, Romania with The LIFE Foundation. This is the second learning disability student nurse from Bangor to volunteer at the Oltenia Project, as Lyndsey Hughes then a third year learning disability student nurse spent August 2016 in Romania. Lyndsey, now a registered learning disability nurse working with Betsi Cadwaladr University Health Board has met with Yenita to share her experience.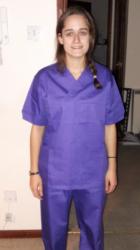 The project works with children with special needs living in family type homes and adults in institutions. The charity relies on volunteers because the homes and institutions are under staffed, as care is not a very well respected job. This means that the children and adults rarely leave the building in which they live. The volunteers work with individuals using Intensive Interaction to create care plans that the staff can follow. This will help to reduce institutionalised behaviours and support the children and adults in their development to be as independent as possible.
On August 26th 2017 Yenita will fly to Romania to volunteer. Having read about old institutions in the UK as part of her Nursing degree, Yenita said "I am very excited to be able to be a part of improving the lives of those living in such challenging conditions. Having been lucky enough to work at a special needs summer camp specialising in activities for people with learning disabilities, I aim never to pass up a chance of working with such an incredible group of individuals and experience care in different cultures".
To raise money Yentia is organising a range of activities:
Walking the Welsh 3 Peaks on May 27th, 2017.
Cycling for 24 hours on a static bike (date and location t.b.c.)
Selling homemade jewellery and cards.
To sponsor Yenita and help her raise funds for the Oltenia Project, Romania please see: https://www.justgiving.com/crowdfunding/romania-yenita-singer
Or for further information please email Yenita Singer: hbu8cb@bangor.ac.uk
Publication date: 13 February 2017