Learning Disability Nursing Student of the Year Success at National Awards
A School of Health Sciences student has again won a top prize at the annual Student Nursing Times Awards. Following in the footsteps of previous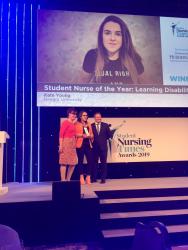 category winners from Bangor this year, Kate Young won the Student Learning Disability Nurse of the year category at the Student Nursing Times Awards 2019.
Kate, 26 is from Deiniolen and went to Coleg Meirion Dwyfor to complete an access course before coming to Bangor University to start the Learning Disability Nursing BN programme.
The judges said that Kate was an "outstanding candidate" and "demonstrated exceptional skills" in all areas of their criteria.
In response to the award Kate said "Over the last three years the school of Health Sciences have opened so many doors for me to explore my passion for working with individuals with Learning Disabilities.
"I have been supported in doing this by wonderful teaching staff and fellow students in the university and all the fantastic individuals working within Learning Disability Services in BCUHB.
"We aim to work together giving everyone an equal opportunity, I could not have won this award without each and every one of the individuals who I have worked with and who have supported me over the last three years as a student, so this is for them!"
Programme Lead David Allsup said "Many congratulations to Kate on winning this prestigious national award for the School and University, against what was an extremely strong field of short-listed Learning Disability nursing students. It has been a privilege to work with Kate and an honour as her personal tutor to have been part of the nomination process. Well done Kate!"
These sentiments were echoed by Head of School Professor Chris Burton who said "I am delighted that Kate has won this important recognition, which raises not only her own profile, but the profile of Learning Disability at Bangor University. Many congratulations to her, and to the academic staff and practice mentors that have supported her development as a future leader within Learning Disability services."
This year students and staff from Bangor University's School of Health Sciences were nominated for numerous awards, proving once again the high standard to which the school consistently performs.
The shortlisted awards were as follows:
Educator of the Year – Stephen Prydderch
Educator of the Year – Julie Roberts
Student Learning Disability Nurse – Kate Young
Outstanding Contribution to Student Affairs – Nicola Williams
To see the full 2019 shortlist - https://studentawards.nursingtimes.net/2019-shortlist
Publication date: 1 May 2019