Healthcare Sciences Lecturer wins prestigious National Teaching Fellowship
Peggy Murphy, nurse lecturer from the School of Healthcare Sciences received a National Teaching Fellowship award at a ceremony in Liverpool's Anglican Cathedral last Wednesday 8th October 2014.
The National Teaching Fellowship Scheme was launched in 2000 to highlight learning and teaching excellence in the higher education sector. The scheme recognises evidence of the positive impact good teaching has on student learning.
This is the most prestigious award that can be made to recognise excellence in higher education teaching and support for learning.
Peggy Murphy received her award for her work on inclusive practice by improving assessment for learning and developing students' engagement with feedback in her Feedforward project. She has also had an impact on student retention working on the transition of students into higher education from less traditional routes by initiating reciprocal teaching with the further education colleges.
She has presented partnership working with the North Wales Access to Higher Education Forum at QAA conferences and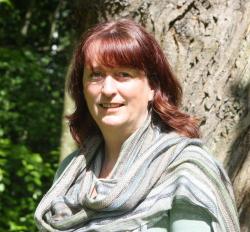 Peggy Murphy, nurse lecturer, is honoured to receive a National Teaching Fellowship for excellence in teaching and learning from the Higher Education Academy. international conferences with the All Wales Admissions Group. Peggy was not the only 2014 recipient of the award from Bangor University;
Professor James Intriligator from Psychology was also recognised for his outstanding contribution to teaching and learning. These awards from Higher Education Academy, recognised excellent learning and teaching and were funded by the Higher Education Funding Council for England (HEFCE), the Higher Education Funding Council for Wales (HEFCW), and the Department for Employment and Learning in Northern Ireland (DELNI).
Peggy recognises that receiving the £10,000 award to develop scholarship is just the beginning of the journey. National Teaching Fellows (NTFs) are an active community of passionate and enthusiastic professionals, working to enhance learning and teaching in their institutions and the sector. There are currently 643 NTFs, representing more than 40 discipline areas. Peggy commented
"I am absolutely delighted to have received such an honour. The scholarship fund will enable me to consolidate links with Whitireia College in New Zealand to research preceptorship in nursing and share lessons learned. I will also be working with peer guides in the School of Healthcare Sciences who support our students both in university and clinical practice".
Professor Jo Rycroft Malone, Head of School, said "the School of Healthcare Sciences is delighted that Peggy's work in supporting nursing students has been honoured through the award of a National Teaching Fellowship. We strive to offer the best possible support for our students, and contributions like Peggy's has played an important role in making Bangor University the top University in Wales for student satisfaction".
You can find an abbreviated version of Peggy's National Teaching Fellow claim if you click here. For more details on the rest of the 2014 fellows click here.
For other Bangor University coverage of this story click here.
Publication date: 22 October 2014