Generous nursing students prepare to spread festive cheer for Wrexham patients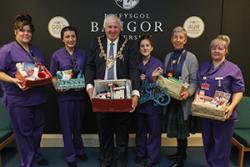 Adult nursing students with Cllr John Pritchard and lecturer Angela Wiliams.: Photo: Craig ColvilleStudent nurses from Bangor University will be bringing some additional Christmas cheer to patients at Wrexham Maelor Hospital again this year.
Third year adult nursing students based at the University's Wrexham campus, Ceri Chamorro, Kate Topple and Fern Williams, along with many student colleagues and lecturer Angela Williams, have filled shoeboxes with festive treats that include a range of gifts approved by Ward managers, including toiletries, colouring books for adults and Christmas decorations. The shoeboxes will be presented to patients on Onnen and Acton wards at Wrexham Maelor Hospital later in December.
The idea came after Ceri was moved by patients without family to visit them during her time on the ward during Christmas 2015.
Ceri said: "I was on placement at the Maelor over Christmas, and saw patients who didn't have any family who were missing out on company. It was awful seeing some people who didn't even get a Christmas card – so last year we set out to hand out cards to everyone on the ward.
"Last year we delivered over 130 shoeboxes as well as Christmas cards. It was such a huge success so we decided to do it all again this year as the whole impact of the project was incredibly positive. The whole experience brought so much joy to all the patients. Just giving some simple presents lets the patients know we are thinking of them. Knowing we made a difference last year made us realise that small acts of generosity can mean so much to others who are less fortunate.
"The nurses work really hard to make patients who don't have anyone else feel valued at this time of year, and hopefully this will just help reinforce that further."
Donations are being collected from students and staff at the University's School of Healthcare Sciences, along with family and friends. Mayor and Mayoress Cllr John and Ann Pritchard visited on 30th November to donate their shoebox to the appeal. The public can also donate at the Archimedes Library, Wrexham Technology Park, until December 12.
Cllr Pritchard said: "It was a very good visit and they were pleased to see us.
"They do work very hard because they do this in their spare time, but they study too. Their gifts certainly cheer up patients."
Angela Williams, lecturer in adult nursing at Bangor University, said: "The students are making an impact on people's lives. They are a credit to the University as well as to the whole community. This demonstrates their kind, caring and generous nature."
Publication date: 1 December 2017