Former Navy Engineer graduates in Nursing
After moving out of the family home and renting it out for 3 years to pay for higher education, a Bangor University student will graduate this week.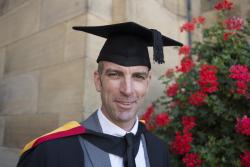 Anthony Green
Married, father-of-three, Anthony Green, 43, from Penmaenmawr, will graduate with a BA Nursing (Learning Disability) degree.
After leaving Ysgol Aberconwy, Anthony joined the Royal Navy as an aircraft engineer fixing helicopters. He left the Navy and spent a number of years in sales before starting work as a support worker for people with learning disabilities. This made Anthony realised that he had found the career he wanted to do for the rest of my life.
Anthony said: "I had grown up with an uncle who had Down's Syndrome and although I knew I loved spending time with him I thought it might be because he was my uncle. It wasn't until I started working as a support worker that I realised I loved working and supporting people with learning disabilities. I eventually decided to go and do nurse training so that I could gain more knowledge and skills to help people more than the role of support worker allowed.
"I chose to study at Bangor University as it is my local university and has tutors that I knew about and had great respect for.
"I continued working during my studies, on Saturdays with a young man I have been supporting for 10 years and Wednesday evenings at a local residential home for people with learning disabilities. It was hard fitting everything in with lectures, studying, essays, work and family life. It was stressful at times, going straight from university to work and then getting home at 11pm; but it was worth every minute and whilst I worked I could put what I had learnt at lectures into practice at work, so it was also very helpful.
"During the course, I took part in a project setting up a website called learningdisabilitynurse.com. This is a new website to assist anyone who is involved in learning disability work or thinking of becoming involved in learning disabilities work. The website evolved after I won The Fiona Law Practice Innovation Award 2011. I asked another finalist if he wanted to help on a project we were given to promote learning disability nursing. We also wrote an article that was published in Learning Disability Practice Magazine in April 2012 and were on the front cover for that issue launching the website.
"The main highlights of my time at Bangor were winning the Fiona Law award at the National Network of Learning Disability Nurses Conference which was held in Bangor that year. I knew I was one of the 5 finalists, but didn't know they were going to choose an overall winner and I literally couldn't believe it when they announced my name as the overall winner. What made this award extra special is that Fiona Law was a lecturer in learning disability nursing at Bangor and this award was in her memory. I was, and still am extremely proud of that. The award was won for a piece we wrote about how we felt the future of learning disability nursing was in safe hands and how we would make a difference.
"Another highlight was getting my first A in an essay! I then knew that I could handle the academic side of the course which was a worry when I first started.
"I was a finalist for the Nursing Times Learning Disability Student of the Year in 2012 and went to London for the awards. I was also runner up in the Royal College of Nursing Wales Nurse of the Year Student Award in November 2012."
Anthony hopes to have a long career as a learning disability nurse, making a difference to the lives of the people that he cares for.
Publication date: 12 July 2013