Commonwealth/Windle Trust Scholar and Bangor University student overcomes war, health and poverty to follow his dream
Sule was raised in a Ugandan refugee camp after his parents fled from the civil war in Sudan, he suffered from repeated illness throughout his childhood and lived in a camp that lacked any proper medical services and facilities. Sule was unable to walk until the age of three and he remembers a childhood where he was too sick to play with his peers: it was this that inspired his decision at the age of six to pursue medicine, dreaming of becoming a doctor.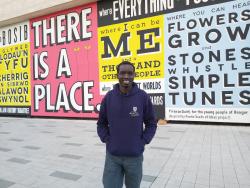 Sule Ismail
Thanks to a number of scholarships and financial assistance packages, Sule was able to move through primary and secondary education where he emerged as the best in his class, this then allowed him to follow his dream and enroll at Gulu University to study for a Bachelor of Medicine and Bachelor of Surgery. Upon graduation in 2016 Sule began working for the Healing Kadi Foundation through an outpatient clinic and outreach programme at the Palorinya Refugee Settlement, Moyo, Uganda.
Sule is now studying for an MSc in Public Health and Health Promotion at Bangor University thanks to the Windle Trust International who are supporting 11 young intellectuals from Uganda, Kenya and South Sudan for the 2019 - 2020 academic year as part of the UK Postgraduate Programme.
When asked what his plans were following the completion of his Master's programme at Bangor University, Sule was clear in his plans to contribute:
"I want to continue my efforts to serve refugees and vulnerable host populations in Uganda through provision of preventive and curative health services, supplementing government efforts in the implementation of quality health care services and building the capacities of refugees and their host populations in delivering and sustaining curative and preventive health care services. I want to ensure that universal health coverage becomes a reality regardless of gender, race, social and economic status."
This article originally appeared on the Windle Trust International website and is used with permission windle.org.uk/sule
Publication date: 30 January 2020