Celebrating Twenty Years of Excellent Mental Health Nursing Education at Bangor University
Bangor University is delighted to be celebrating two decades of Mental Health nursing education at its Wrexham site with cake and a short talk at 11am on Saturday 15th Oct with an open invitation to ex-students, staff and anyone else with links to the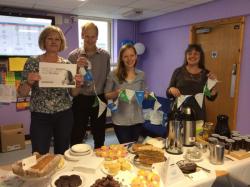 Staff and Students Celebrating World Mental Health Daycourse. Mental Health Nursing has a long and interesting history in North Wales with much of the service provision centred on the former North Wales Hospital in Denbigh, with a large community of local people across North Wales playing an important role in the service provided.
Traditionally, mental health nurse education occurred within these services with student nurses working alongside state enrolled and state registered nurses in the clinical field. However, against a backdrop of integrating NHS healthcare professions education into the higher education sector, alongside a shift from hospital-based to community-based mental health services, mental health nurse education evolved. The introduction of the Project 2000 nursing programme was to establish and develop nurses for all fields with a stronger academic foundation to their practice. Mental health nursing was no exception with the programme transitioning from the traditional nurse education to a new approach, in a collaboration between the then Clwydian Community Care Health Authority and the University of Wales Bangor.
The School of Nursing that already existed on the Maelor Hospital site was relocated a short distance away to the Wrexham Archimedes Centre in 1993 forming Bangor University's Wrexham Campus. All nursing students were also moved to the new site including existing mental health nursing students and the School of Nursing on the Maelor site was knocked down to build the first mental health wards attached to the Maelor Hospital in 1995, to coincide with the closure of the North Wales Hospital in Denbigh. The unit was renamed Llwyn Y Groes meaning 'Place of the Cross' where a pre-existing church had stood. This is now home to the Community Mental Health Team now called Ty Derbyn, meaning a 'House of Acceptance'. The first group of new mental health students to start and finish their training at the Bangor University Wrexham campus was in September 1993; they qualified as Mental Health Nurses 20 year ago in September 1996.
The close links between Bangor University Wrexham campus and local NHS services have continued to grow and we are proud that many students are able to learn and work locally in developing their professional careers across North Wales. Many of the current lecturers have followed this route and are able to develop close links between Bangor University and NHS staff.
"I enjoyed doing my mental health nurse training here at the Wrexham campus during the mid-1990s. I made lifelong friends and it was great to be so close to the hospital - the staff support was fantastic! I believe students here now would get equally as good an experience as I did." Dr Seren Roberts (Mental Health Lecturer, Bangor University).
"As a mother of two young children, working in mental health services in the 1990's, the move into higher education enabled me to access and complete my diploma in mental health nursing. In 1993 I begin the nursing career I had always dreamed of but thought I would never have or be able to access, due to my family commitments". Dr Marjorie Ghisoni (Mental Health Nurse Lecturer Bangor University)
Along with other universities in Wales, Bangor University was one of the first in the UK to move towards an all-graduate nursing curriculum and continues to be supported by the Welsh Government, to develop excellent first class nurse education across North Wales. The Complete University Guide 2017 ranked Bangor University 3rd in UK for Nursing. An achievement we are immensely proud to report. Whilst the nurse education programme has evolved significantly over the 20 years - growing from a Diploma to a Degree in Nursing - our commitment to supporting students through the process of becoming registered nurses that will provide the best care for the population of North Wales is as strong as ever. Today as much as ever, we appreciate and rely on the excellent nurses who work in the clinical field to support the students in acquiring the necessary skills to become also become excellent nurses. We very much look forward to welcoming the next generation of Mental Health Nurses through Bangor University's doors in Wrexham April 2017. There are Open Days on the 15th and 29th October so iff you are interested in an immensely rewarding career as a nurse we have a number of routes available so do come along and find out more.
Publication date: 10 October 2016