Career change leads to First Class Honours and a 'job in the profession that I love'!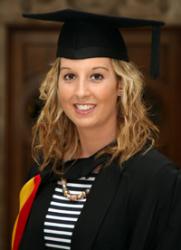 Natasha RoweAdult Nursing graduate Natasha Rowe from Llansantffraid, Powys, obtained a Law Degree and then went on to work as a legal assistant. She soon discovered that her passion was helping others and enrolled on the Adult Nursing degree course. This week she will be graduating with a First Class Honours degree.
Natasha, 26, credits Bangor University with helping her ambitions. She said: "Bangor University allowed me the opportunity to study at home and travel by offering the Wrexham campus. The staff support, especially that of my personal tutor Jane Wright was phenomenal and by being an active member of various societies we brought the fun to Wrexham and made the most of our time on campus."
She added, "Throughout my time at Bangor University I participated in various extracurricular activities such as being a peer guide, a member of the 1000 Lives Society, Royal College of Nursing Student Information Officer, presenting at the University Annual Conference and being part of an Infection Prevention Research Project. I was also the Events Officer for the Nursing Society whereby as a committee we raised over £700 for a local homeless shelter providing them with hot food over the Christmas period.
"With my legal past, I was keen to learn more about the legislative and policy development side of nursing and met with Jean White, the Chief Nursing Officer of Wales to enhance my knowledge in this area. I was also nominated for the Royal College of Nursing Nurse of the Year Award. I am currently working alongside a lecturer to publish my dissertation to promote domestic abuse identification in healthcare.
Jane Wright, School of Healthcare Sciences, said: "Natasha is an exceptional individual, who will make an outstanding registered nurse. She is kind, compassionate and has a very considered, mature approach.
"During her undergraduate nursing studies Natasha took the time to work in partnership with lecturers to prepare students for assessments, by sharing her experiences and giving feedback from a student perspective. She delivered feedback with empathy, encouragement, and shared coping methods which she had employed to prepare for and succeed at assessments. It has been an absolute pleasure working with her over the past 3 years.
"Natasha's reflexive approach led her to investigate how nurses recognise and manage domestic abuse in the Emergency Department (ED). She composed a much-needed review of the current healthcare literature to establish how best practice was being implementing in other ED settings around the world. Her findings were then analysed with a focus on how they could be applied to the local ED setting, to establish relevant implementation strategies for change and quality improvement. This quality improvement initiative presents implementation strategies which promote the concepts around recognising and responding to violence against women, as highlighted in the Violence Against Women, Domestic Abuse and Sexual Violence (Wales) Act 2015, and the Betsi Cadwaladr Safeguarding and protection of people at risk of harm strategy. Natasha revised an A* for this exceptional piece of work, which she is now preparing for publication. This knowledge will be invaluable to Natasha and her colleagues, as she is now employed as a staff nurse in the Emergency Department."
Excited about the prospect of graduating, Natasha said: "Amazing! It really does make all the hard work put into my academic writing and placements feel worth it. Not only am I graduating but I am graduating with a first class honours degree, something I never thought I would achieve and also have a job in the profession that I love. Graduation is the icing on the cake and makes the three years a reality."
About her hopes for the future: "I want to develop my nursing career and becoming a reputable nurse by putting the evidence into practice and drive patient centred care. I hope to gain further experience in the profession and go on to complete my Masters."
Publication date: 19 July 2017