Bangor University Nursing Student's Contribution to Improving NHS Quality Recognised by National Campaign
Clare Woodcock, a second year Nursing Degree Student has won a place at the prestigious International Forum on Quality in Safety in Healthcare to be held in Paris later this year.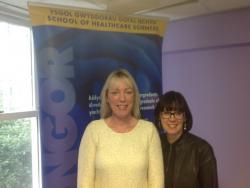 Clare Woodcock (left) pictured here with Prof Jo Rycroft Malone, Head of School of Healthcare SciencesHer commitment to reducing the risks of infection to patients in hospitals through high standards for hygiene and cleanliness has been recognised by the national programme for improving healthcare quality in NHS Wales. Attending the conference will enable Clare to meet international experts in health care improvement, and explore new ways of continuing her work in this important aspect of patient care.
Clare said "I feel very proud and privileged to have been given this opportunity to contribute to improving the healthcare of patients in Wales. I hope to learn new techniques and practical ideas to improve the quality of healthcare which I can share with my fellow nursing students to use within our clinical practice."
Prof Jo Rycroft-Malone, Head of School commented "the School of Healthcare Sciences is very proud of Clare's achievement. As a School we take seriously our role in promoting best practice and in preparing and supporting students to take on leadership roles in improving patient care and experience. Clare's award demonstrates how our students can become leaders whilst they are learners."
Clare has been supported by Lecturer, Carol Westwell, who says "Bangor University's School of Healthcare Sciences is delighted to work in partnership with the 1000 Lives + programme to ensure our students contribute to quality improvement in the NHS in Wales. I am delighted to see Clare's success and the valuable contribution she is making towards improving the patient experience and driving forward the quality improvement methodologies within clinical practice."
For further information about the School please visit http://www.bangor.ac.uk/healthcaresciences/
Publication date: 10 February 2014