Bangor to focus on health and wellbeing in phase II of CALIN, a project supporting innovation in life science across Wales and Ireland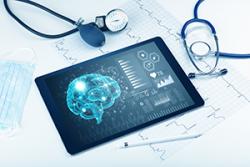 Life science experts at Bangor University's College of Human Sciences are to play a key role in plans to forge even closer links between Wales and Ireland through the CALIN project.
Celtic Advanced Life Science Innovation Network (CALIN), is an Ireland-Wales INTERREG operation, led by Swansea University, which was set up to support research and development in life science small-medium enterprises in West Wales and East and South Ireland. The cross-border initiative teams a Welsh and Irish university with an SME to deliver developments in the life sciences.
Since it was established in 2016, CALIN's six university partners - Swansea University, Bangor University, Cardiff University, University College Dublin, Tyndall Institute, University of Cork and National University of Ireland Galway - have assisted more than 150 companies and established 40 short and medium-term collaborative projects.
Bangor is leading on the newly established health and wellbeing theme for phase II of the project. Theprincipal investigators at the University are John Parkinson, Dean of the College of Human Sciences; Lynne Williams, Head of the School of Health Sciences; Jamie Macdonald, Head of the School of Sport, Health and Exercise Sciences, and Caroline Bowman, Head of the School of Psychology,. They will be working with SMEs on projects such as organisational wellbeing, health promotion and service design and innovation.
Professor John Parkinson commented:
"Bangor University has a significant role to play in supporting collaboration and cooperation across the country, and between Wales and Ireland. Bangor's role in the partnership has evolved to provide expertise around health and wellbeing, and so through CALIN we also have a significant opportunity to support organisations recovering from the challenge of Covid."
CALIN was recently singled out for mention in a formal shared statement designed to increase cooperation and collaboration between the Welsh and Irish governments and their partners in the business, arts, sporting and community sectors.
CALIN's Strategic Director Professor Steve Conlan, of Swansea University Medical School said: "Among its many exciting aims, this action plan seeks to promote industrial collaboration in the Irish and Welsh life-sciences industries.
"We are delighted that CALIN has been identified as a way of doing just that. We have a proven track record in establishing and supporting exciting new ventures and developments.
"To receive a stamp of approval from both governments will help us to not only continue to do this but go from strength to strength in this field."
Are you an SME involved in the life science sector in Wales or Ireland? If you would like to be part of the growing number of businesses to benefit from the expertise of the CALIN network please contact Carol Thomas: carol.thomas@bangor.ac.uk.
Find out more about the CALIN project
Publication date: 18 March 2021