Baby-friendly Award for Bangor University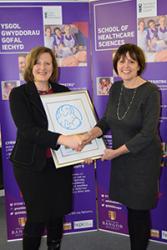 Sheila Brown, Lead Midwife for Education & Course Director for the Bachelor of Midwifery Programme is congratulated on the School's achievement by Ms Fiona Giraud, Director of Midwifery and Women's Services at BCUHB.Bangor University is the first university in Wales to have been awarded the prestigious Baby Friendly Award and is the latest university to gain recognition from Unicef UK for the high levels of training in breastfeeding provided to students on its midwifery course. Student midwives enrolled in the midwifery programme at Bangor University will now graduate with an extra qualification, which will save them having to complete further training when they are employed as midwives.
The Unicef UK Award was received by the midwifery lecturing team and students at Bangor University's School of Healthcare Sciences, who were congratulated by partners from Betsi Cadwaladr University Health Board.
"We decided to work with the Baby Friendly Initiative to ensure a high standard of training in breastfeeding for all student midwives graduating from this course," said Sheila Brown, Lead Midwife for Education & Course Director for the Bachelor of Midwifery Programme at Bangor University's School of Healthcare Sciences, who teach at both the Wrexham and Bangor campuses.
"We know that many women give up breastfeeding before they want to because of difficulties which could have been prevented if skilled help had been on hand. By ensuring that our students are fully trained in how to help a mother breastfeed her child, more women will be able to breastfeed their babies for longer."
Sheila continued: "Breastfeeding protects babies against a wide range of serious illnesses including gastroenteritis and respiratory infections in infancy as well as allergies and diabetes in childhood. We also know that breastfeeding reduces the mother's risk of some cancers – although mums might be more interested in hearing that it's easier, cheaper and simply less hassle than bottle feeding."
"But however a mother chooses to feed her baby, she can be sure that she will be supported to form a strong loving relationship with her newborn – through having maximum skin to skin contact and understanding how her baby communicates with her and needs her to respond."
The Baby Friendly Initiative, set up by Unicef and the World Health Organisation, is a global programme which provides a practical and effective way for health services to improve the care provided for all mothers and babies. In the UK, the initiative works with UK public services to protect, promote, and support breastfeeding and to strengthen mother-baby and family relationships. Support for these relationships is important for all babies, not only those who are breastfed.
The Baby Friendly University Award was launched in the UK in 2008 – the first such award anywhere in the world, in order to ensure high levels of training in breastfeeding are incorporated in midwifery and health visitor training courses. The Award recognises that a university has implemented best practice in breastfeeding training, and has passed a thorough external assessment by Unicef UK staff.
"We are delighted that Bangor University has received this award," said Baby Friendly Initiative Programme Director Sue Ashmore. "Surveys show us that most mothers want to breastfeed but don't always get the support they need. Becoming Baby Friendly Accredited means that Bangor University is addressing this problem and aiming to ensure more mothers can successfully breastfeed their babies in future."
Sharon Breward MBE, Infant Feeding Co-ordinator at Betsi Cadwaladr University Health Board commented:
"I am absolutely delighted that our Midwifery training course has become accredited by UNICEF UK. Our thee maternity units in Ysbyty Gwynedd, Glan Clwyd and Wrexham are all accredited with the UNICEF Baby Friendly initiative and the addition of the pre-registration training course means that the UNICEF best practice care standards will be sustainable for the future.
Many congratulations to all in the Midwifery training department on being the first Midwifery course in Wales to achieve this accolade."
Ms Fiona Giraud, Director of Midwifery and Women's Services at Betsi Cadwaladr University Health Board added her congratulations saying:
"This is a most important initiative as it has the potential to have significant and positive impacts on public health."
Student Midwives attend placements across North Wales The midwifery department have also recently developed a postgraduate module and certificate in breastfeeding support to further develop midwives', health visitors' and other health professionals' knowledge in supporting mothers to breastfeed successfully.
Publication date: 20 March 2018