100% employability for graduating radiography students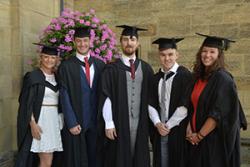 Some of the graduating studentsFinal year Radiography students who are graduating from Bangor University this week have all secured employment at various health boards in England and Wales.
All 17 students had found jobs before taking their final exams, up to three months before graduation.
Delighted with the outcome, Professor Jo Rycroft-Malone, Head of the School of Healthcare Sciences, said: "This is a fantastic achievement by our students, providing a good indicator of the quality of the healthcare programmes we deliver in the school, and the excellence of our lecturers. It's good to know that we are contributing meaningfully to the delivery of high quality health services regionally and nationally."
Elizabeth Carver, lead lecturer and co-ordinator for clinical education commented that the students have been a great year group, and: "it seems future employers are realising that they will make excellent health professionals too. One student has even been successful in obtaining a rather attractive post that several qualified and experienced radiographers were interviewed for."
Publication date: 11 July 2015