Two Excellence in Teaching Awards received by North Wales Clinical School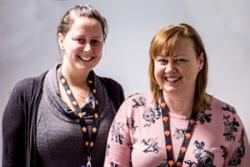 Catrin Roberts (left) and Einir MowllTwo North Wales Clinical School tutors, Einir Mowll and Catrin Roberts, have been awarded Excellence in Teaching Awards from Cardiff University School of Medicine.
Einir Mowll is the clinical skills and simulation tutor at the North Wales Clinical School, Bangor and is responsible for providing clinical skills teaching to the medical students from Cardiff, along with junior doctors and students from Bangor University's School of Medical Sciences.
She has worked hard to develop a first class clinical skills suite within the clinical school and her award for the Innovations in teaching category for her work on simulation training is very well deserved. She has developed multi-disciplinary teaching sessions which include nursing students as well as the medical students.
This aims to remove barriers between the two professional groups and promotes team resource management which encourages all members of a team to speak out if they disagree with a course of action or identify mistakes. This helps prevent errors in treatment and ultimately improves patient safety.
Catrin Roberts, is the Medical Education Pharmacist for Ysbyty Gwynedd and provides teaching for medical students and junior doctors to ensure they are able to prescribe safely.
She also teaches on the BMedSci course at Bangor University. She has been awarded the Teaching Excellence award for her development of the pharmacy teaching programme for medical students which was the first in Wales and has been quoted as best practice by Cardiff University.
It has since been rolled out across BCU and the rest of Wales is now offering similar programmes for their students.
Kim Thomas, Manager of the North Wales Clinical School in Ysbyty Gwynedd said "I am exceptionally proud of both Einir and Catrin for these well deserved awards. They have both worked incredibly hard to develop outstanding teaching programmes which not only receive excellent feedback from the students, but will ultimately lead to improved patient safety. As most of these Awards usually go to Cardiff Tutors, it is gratifying that the standard of teaching in North Wales has been recognised in this way."
Source: Betsi Cadwaladr University Health Board
Publication date: 12 May 2015