Prudent Health – Bangor explores ways to assist the Welsh Government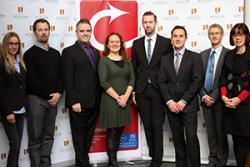 The delegation and University staff.A health delegation from Welsh Government visited Bangor University to visit the Welsh Centre for Behaviour Change (WCBC) and discuss the government Prudent Health agenda. WCBC are currently writing a chapter for the Prudent Health ebook (prudenthealthcare.org.uk) to help bring the knowledge of behaviour change science to prudent healthcare issues.
Alex Hicks, Head of Health Strategy said "The Centre for Behaviour Change has contributed a chapter to the online resource -www.prudenthealthcare.org.uk - describing how a behavioural change approach is needed to make prudent healthcare happen in Wales. We visited Bangor recently to hear more about the work that the centre is leading on and explore opportunities for collaboration on prudent healthcare."
The Dean of CoHaBs, Prof. Callow, is hopeful that this could be the start of a mutually beneficial relationship saying "We were delighted to host a delegation from the Health Strategy Unit of WAG, and show case research within CoHaBS related to behaviour change and the government's prudent health agenda". It was a very productive meeting with the opportunity for researchers to inform WAG on implementation of practice and policy".
Delegates from WAG were Alex Hicks (Head of Health Strategy), Tom James (Head of Health and Wealth policy (Innovation)), Ashley Gould (Specialist registrar in Public Health) and Hywel Williams (Health Strategy Manager)' and Bangor was represented by Prof. Nicky Callow (Dean of CoHaBS), Prof. Jo Ryecroft-Malone (Head of Healthcare Sciences) Dr John Parkinson (Head of Psychology & Dr Carl Hughes (WCBC).
Publication date: 17 December 2014