Professor listed among world's most influential researchers
Professor Jo Rycroft-Malone, Professor of Health Services & Implementation Research at Bangor University's School of Healthcare Sciences has been ranked among the world's most influential researchers.
One significant and important measure of academic research is how often academic research papers are cited or referenced in other academic articles. Prof Rycroft-Malone's work is listed in the newly published Thompson Reuters Highly Cited Researchers 2014 list, which represents the world's leading scientific minds.
Prof Rycroft-Malone is among over three thousand researchers from across the globe earning the distinction by writing the greatest numbers of reports officially designated by Essential Science Indicators℠ as Highly Cited Papers-ranking among the top 1% most cited for their subject field and year of publication, which has been judged by peers to be of particular significance and earning them the mark of exceptional impact.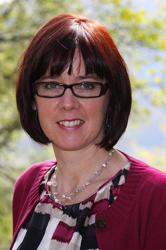 Professor Jo Rycroft-Malone.Prof Rycroft-Malone commented:
"I'm delighted with the news that the work I have been involved in for over 15 years in researching and implementing different approaches to improving practice and services has been so highly valued by the internationally community. I feel proud to be amongst such exceptional company on this list of most influential global researchers"
Prof Rycroft-Malone's particular interests and expertise lie in knowledge translation research including how and why evidence or knowledge do or do not get used in practice.
There are numerous examples through history of really beneficial developments which can be available in a wide range of situations, but which are not widely adopted into everyday practice. Prof Rycroft-Malone' s interests lie in evaluating what these reasons may be and how they are overcome so that best practices are adopted and used widely. She has been working with colleagues on the development of a framework that supports these processes, which is used widely across the globe. This is a vitally important area which is particularly relevant to healthcare sciences, as it can offer great benefits to patients and contribute to efficiency and effectiveness in global healthcare.
Professor David Shepherd, Pro Vice Chancellor for Research & Innovation at Bangor University commented:
"For research to have impact it needs to be shared and adopted, and I'm delighted that our Healthcare Sciences research at Bangor University, through the work done by Prof Jo Rycroft-Malone and others, is having an impact on healthcare not only in the region and in Wales, but also internationally."
Prof Rycroft-Malone holds a number of positions including Chair of the National Institute for Health & Clinical Excellence (NICE) Implementation Strategy Group and as Deputy Chair of the National Institute for Health Research (NIHR) Health Services and Research Delivery Programme Commissioning Board and an independent member of Betsi Cadwaladr University Health Board .
Publication date: 26 June 2014