Minister hears about Health education and research
Health and Social Services Minister, Mark Drakeford visited Bangor University recently to hear first-hand about the latest developments regarding the University's health-based research, nurse education and links with the NHS.
Following the visit, Welsh Government Health Minister Mark Drakeford said: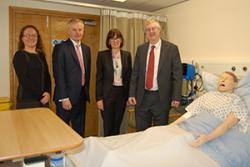 "Research plays a key role in the NHS in Wales and Bangor University's Centre for Mindfulness Research & Practice has pioneered the way we understand and treat mental illnesses such as severe depression.
"I was also particularly pleased to see the University provides excellent quality nurse education training for those choosing to enter the field, to ensure we have the best quality health professionals working in the Welsh NHS."
Professor John G Hughes, Vice-Chancellor of the University commented:
"The University has a vital role to play in contributing to health education and research in Wales and beyond. Our close working relationship with the NHS in Wales, and with Betsi Cadwaladr University Health Board in particular, ensures that we make a meaningful contribution to shaping healthcare provision in north Wales. We welcome this opportunity to share our objectives with the Minister."
Professor Jo Rycroft-Malone, Head of the School of Healthcare Sciences commented:
"The School of Healthcare Science's award of the tender for undergraduate pre-registration nursing education provision for north Wales by the Welsh Government is a clear indication of the excellent quality of nurse education provided by Bangor University. Added to this, the University's health and behavioural sciences research, across a broad spectrum of topics is providing vital new knowledge and contributing to improving our understanding, as well as to shaping the way in which health care is delivered locally, regionally and globally."
A few places are still available on the Adult Nursing course based at the Wrexham campus to start on 7 April 2014. To find out more contact Mrs Peggy Murphy, lecturer at the School of Healthcare Sciences on 01978 316351.
The Minister met staff from the University's Centre for Mindfulness Research & Practice. Large-scale research by the Centre showed how a particular type of cognitive or thinking therapy, Mindfulness Based Cognitive Therapy (MBCT), can halve the recurrence of severe depression in people who had suffered several periods of depression. MBCT has been recommended by the National Institute for Clinical Excellence (NICE) for use within the NHS. Mindfulness, a form of mental training has since been adapted and has proven to be valuable in a range of settings, from dealing with cancer or chronic pain, to preparing for childbirth.
Rebecca Crane, Director of the Centre explains:
"Mindfulness meditation, in its various forms, develops attention and emotion regulation skills. Practicing Mindfulness helps the individual to 'press the pause button on their life' and teaches new ways of responding that are more self-compassionate, nourishing and constructive."
The team highlighted the potential long-term cost saving benefits to the NHS and society that could be made by capitalising on the expertise in mindfulness training that exists within Wales and by developing national and local strategies that would enable more people in Wales to receive mindfulness-based therapies.
Dr David Crossley, Head of Psychological Therapies in BCUHB commented that: "The BCUHB was pleased to chose Bangor University to provide training in evidence based psychological therapies following Welsh Governments decision to give some extra funding to Welsh Health Boards for that purpose in 2013." Specifically this includes Mindfulness Based Cognitive Therapy and Dialectical Behaviour Therapy
During his visit to the School of Healthcare Sciences Skills Laboratory, the Minister was shown 'state of the art' manikins used to teach students nurses. The manikins, costing £5,000 each, can replicate life-like sounds and symptoms, to enable student nurses to recognise different conditions and how to respond. With the Minister are-left-right are Dr Nicky Callow, Dean of the College of Health & Behavioural Sciences, Prof John G Hughes, Vice Chancellor and Prof Jo Rycroft-Malone, Head of the School of Healthcare Sciences.
Publication date: 3 March 2014