Lifetime Contribution recognised
Gwerfyl Roberts, a Senior Lecturer at the School of Healthcare Sciences has just received a Lifetime Contribution Award at More than just Words 2017.
The More than just Words Showcase Event recognises and celebrates the importance of Welsh language provision in health, social services and social care, and the exceptional achievements of individuals and teams.
In addition to the individuals and teams Awarded and Commended, one Lifetime Contribution Award was made.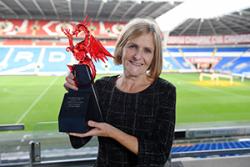 Gwerfyl Roberts received the Award at a recent eventPresenting the Award to Gwerfyl, Andrew Goodall, Chief Executive of the NHS in Wales said:
"I now have the honour of presenting a lifetime achievement award to an individual who has been an inspiration and worked tirelessly to improve the quality of bilingual health care provision for years. She has published innovative work on various topics, outlining the Welsh experience and setting the international context. She has also contributed to the work of various boards and task groups, often advising the Welsh Government, and her expertise has made a difference and had a positive influence on public policy in Wales.
Angharad Mair, Conference President added:
"Congratulations Gwerfyl on fully deserving this Award for her contribution over years and for inspiring others. Here's a great example of someone who has lead and made a difference behind the scenes."
Head of School, Chris Burton added his congratulations to Gwerfyl, saying:
"Language can be particularly important in healthcare; we are often asking people for very personal information about themselves, and in many instances the person may feel vulnerable. Providing services to patients and service users that acknowledge their language needs is central to meeting their care requirements with respect and dignity. Gwerfyl has been at the heart of improving Welsh language services across Wales and her hard work and dedication has improved the services that many people – from monolingual toddlers to older adults with dementia or other clinical reasons which cause them to struggle in their second language – receive from the NHS in Wales and the approaches she has pioneered here also have relevance beyond Wales in places such as Canada and the Basque area of Spain."
Gwerfyl said of receiving the Award: "I feel it a privilege and a great honour to receive this Award. Looking back at my career I feel so lucky to have been able to combine two areas of work so close to my heart, promoting the Welsh language and healthcare."
Gwerfyl travels to Ottawa at the beginning of next month, to share her expertise. First she is contributing to an international conference, Société Santé en Français http://rvsante2017.ca/ and is then co-chairing Canada's Health Standards Organisation (HSO) Technical Committee for Communication in Health Services https://healthstandards.org/ . The committee is currently tasked with co-designing a new evidence-based standard to improve the access of Canada's two official linguistic minorities to safe, high quality health and social care services across the continuum of care.
Gwerfyl's main research interest focuses on enhancing and implementing the evidence base for language appropriate practice in health and social care. She is commissioned by the Welsh Government to lead LLAIS, the Welsh language awareness methodology support hub for the National Institute for Social Care and Health Research (NISCHR). Gwerfyl is a member of the Welsh Government Task Group for Welsh in the Health Service; and Ministerial Steering Group for the 2012-2015 Strategic Framework for Welsh Language Services in Health, Social Services and Social Care. A lead figure in Welsh-medium provision in nurse education, she also represents the health disciplines on the academic board of the new all-Wales Welsh-medium Coleg Cymraeg Cenedlaethol established in 2011.
Publication date: 11 October 2017