Improvement Science Fellowship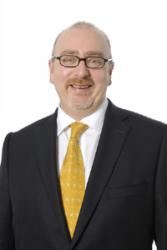 Dr Chris BurtonDr Chris Burton from Bangor University's School of Healthcare Sciences has been awarded a prestigious Fellowship from the Health Foundation. Supporting his research for three years, the award will enable him to investigate how health organisations improve the services they provide – particularly when it comes to collaborating with patients and the public, and the kinds of pitfalls and successes experienced.
Chris is a senior research fellow and one of a group of implementation scientists at Bangor University. Led by Professor Jo Rycroft-Malone, staff are supporting healthcare professionals and organisations across the globe to close the gap between evidence of 'what works' in healthcare, and the services provided to patients. Prof. Rycroft-Malone commented "This prestigious award is a great achievement that rightly recognizes the excellence of Chris's application and proposed project. I am looking forward to being one of his award mentors and in continuing our efforts to put implementation science at Bangor University on the world stage."
Chris hopes the improvement science fellowship will provide opportunities to develop new skills and theoretical insights in improvement science, and to develop specialist expertise around patient and public involvement. "I am delighted that the Health Foundation have chosen to invest in this research, and am looking forward to working with an organisation at the forefront of improving health services across the United Kingdom" he says.
Chris's project
Healthcare improvement work can encompass anything from infrastructure changes that support improvement, to organisational partnerships or changes to systems and practices. Chris will be researching up to 10 improvement projects across the UK, to learn how improvements work, and what is effective in delivering the desired impacts for organisations, staff and patients.
'I'll be planning this work with reference to a theory known as 'the resource based view of the firm' which sees organisations as a complex mix of resources, including the experience and skills of their staff. I'm interested in how these resources are shaped by improvement work,' says Chris.
'All organisations try to maximise the resources they have to increase their capacity to deliver high quality services. I'm trying to identify why organisations invest time and energy doing improvement work, and the value it adds to their organisation. By applying tested theory, I'm hoping to discover rational reasons about why improvement projects work,' he explains.
Patient and public involvement
Because patients are central to healthcare, patient and public involvement (PPI) is a component of nearly all improvement work, bringing information about experiences, preferences and the consequences of change. Chris thinks that so far PPI has received little attention from improvement science, and understanding more about it would be hugely beneficial to healthcare improvement.
'I'm going to focus on improvement projects that include PPI which may develop very different resources and insights for health organisations. PPI is so interesting because it's occurring in so many areas of improvement work, and we'll find there is an enormous amount of learning we can use to our advantage. It feels like it is a growing field of practice and I think the potential to develop science in this area is enormous.'
Uncovering hidden value
Chris aims to learn how PPI is being conducted, common approaches, successes and failures and the types of benefits it creates. 'I want to capture a rich picture of the influence that PPI has throughout the interplay of an organisation's improvement work. Not just how it shapes a project, but the type of peripheral learning and feedback that it generates. I hope to show how tapping into this open resource can add significant value to an organisation's improvement work, enhance the experience of the people involved in that work, and overall create better outcomes for patients.'


Publication date: 22 February 2013