Determined carer graduates for the second time with pride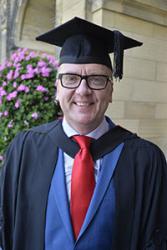 Emyr WilliamsCaring for an elderly relative whilst working part-time is quite a task, but to do this whilst concurrently studying for a degree is quite remarkable. A Bangor University student has succeeded against the odds to work, care and study and graduates this week.
Emyr Williams, 50, from north Wales has graduated with a BN (Hons) Mental Health Nursing first class honours degree and has already secured the job that he wanted. Emyr is now working as a Community Psychiatric Nurse for the Betsi Cadwaladr University Health Board and is based with the Conwy Mental Health Team for older people in Llandudno.
After graduating with a BA Administration degree from Y Coleg Normal in 1986, Emyr joined Clwyd Voluntary Services Council as Information Officer. Upon reorganisation of local councils in 1997, he transferred over to Denbighshire Voluntary Services Council. He became Senior Development Officer there until he took voluntary redundancy in January 2012.
Emyr became interested in mental health issues when his Mother became unwell after the sudden death of his Father. It was following this that he decided that he wanted to become a mental health practitioner in order to be able to help people similar to his Mother in their recovery.
On graduating and in referring to his student experience at Bangor University, Emyr said:
"It is a great honour to be graduating once again in Bangor. It is exactly 29 years since I graduated for the first time from Y Coleg Normal. My first graduation ceremony was also held at the Prichard Jones Hall, so it will be a weird experience to be back after so many years.
"I worked a lot whilst studying, there was no choice. Although I was lucky enough to receive a bursary, which helped, I still needed to pay the bills. I worked, in what spare time I had, as a Health Care Support Worker at both Colwyn Bay Community Hospital and the North Wales Adolescent Service (NWAS) at Abergele.
"Being a carer is never an easy job. Initially my Mother was still at home when I started my course, she then spent long periods of time in hospital. I would often be doing round trips of about 120 miles, several times a week, so I could attend lectures and or/placement locations and visit her regularly in hospital. However, I was not fazed by this, as I was determined to succeed and to achieve my goal of becoming a mental health nurse."
"One of the highlights was the course itself, and the opportunities it afforded me to work in so many diverse clinical settings, and also to meet so many inspirational and dedicated people. Another highlight were my fellow students - they were all amazing and I know I have made friends for life. All the staff at the School of Healthcare Sciences were friendly and supportive. However, the biggest personal achievement for me was securing my first class honours degree. I really do have to thank Denise Aspinall, who is the Programme Lead and Lecturer in Mental Health Nursing at the University, and who was my Personal Tutor, for her guidance and unstinting support throughout my course. She enabled me to achieve the best that I could under often difficult and stressful circumstances.
Publication date: 11 July 2015